Helen K. Garber
Photo Credit © Curtis McElhinney
Helen K. Garber is known for her night urban landscapes from international cities. Garber's latest projects incorporate her photographs in pieces involving mixed media, live installation and assemblage. In 2007 her photographic multimedia installation Urban Noir/LA-NY was featured at the Samuel Dorsky Museum of Art in New Paltz, New York. In 2006 her 40-foot, 360-degree panorama A Night View of Los Angeles was commissioned for the Biennale of Architecture in Venice, Italy. Garber's photographs have appeared in books and are in permanent collections of museums, private and corporate collections nationwide. She is represented by Farmani Gallery in Los Angeles and Brooklyn and by Tepper/Takayama Fine Arts in Boston.
Third Street Promenade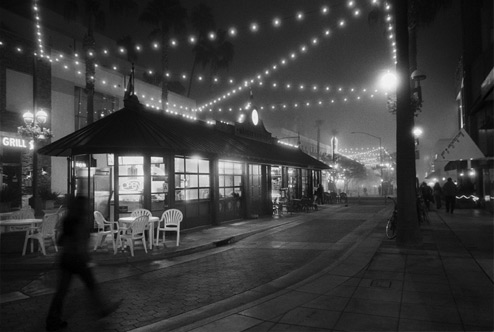 The small size and wide range of controls available with the Ricoh GR-1 film-based point-and-shoot make this camera more appealing than most other point-and-shoot models. Helen K. Garber finds this camera particularly useful in situations where unobtrusiveness is important. She handholds the camera for much of her work and uses shallow breathing to help steady it when shooting at slow shutter speeds.
© Helen K. Garber, Third Street Promenade
Camera: Ricoh GR-1, Lens: fixed 28mm, Aperture: f/2.8
Exposure: 1/15 sec., Film: T-Max 400