Kenny Trice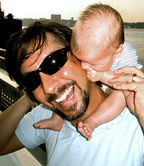 Kenny Trice is an artist best known for stunning landscape and architectural images. A primary interest in his image-making is to capture the ethereal quality of ordinary scenes. He received a BA in Latin American studies from the University of Texas, Austin, and attended the Academy of Art University in San Francisco. His work has been included in two Photo District News photo annuals and in American Photography. Clients range from GSD&M and Publicis to Flaunt, Surface, and Forbes magazines. Trice and his family currently live in Brooklyn.
Fireworks Series, Two Stands, Tennessee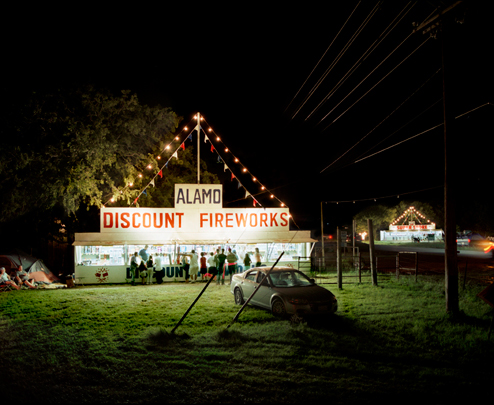 Kenny Trice traveled the southern states to photograph crowds browsing at fireworks stands at night. An extra tall tripod and an eight-foot ladder helped him to achieve an architecturally correct vantage point and limited compression in the foreground of his images. The stands' brightly lit interiors posed an exposure challenge, so Trice began working while there was still ambient light in the sky. He used his camera's prism meter to establish a baseline exposure, and then shot a wide bracket for the option to add highlight detail by scanning additional frames after the fact in post production.

© Kenny Trice
Camera: Mamiya RZ-6x7, Lens: 65mm, Aperture: f/8

Exposure: 5 seconds, Film: Fuji Pro 400H, rated at 200 ISO