Robert Vizzini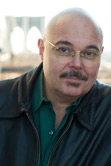 Photo Credit © Clark Jones
Robert Vizzini was born in Brooklyn in 1952. Largely self-taught, he has been photographing seriously since 1991. A workshop with Michael Kenna in 1997 solidified his passion for low-light shooting. His work has been featured in many of the major art photography publications, including Aperture, Blind Spot, DoubleTake, and Black & White Magazine. Known for his "spare and elegant eye," Vizzini was the first recipient of the New Discovery Award of the International Photography Awards. His work is in many public collections, including Bibliotèque Nationale de France, Southeast Museum of Photography, and Swiss Re Capital Partners.
Sixteen Wheeler Star Trail, Valentine, NE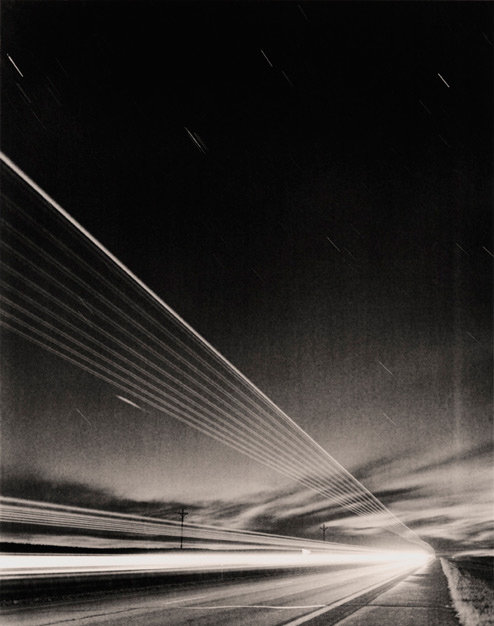 The reflective surfaces and lighting of numerous passing cars and trucks record as ghosts in this roadside image from the rural plains. Vizzini parked on the shoulder of the road and set up the shot at the front of the car as a partial shield from passing traffic. The camera and tripod were positioned at a low angle for solid grounding. Vehicle lights become increasingly blown out the further they get from the camera because of the way distance gets compressed in three-dimensional space as translated to the flat plane of an image. The parallel angle of the star trails to the motion blur was an unexpected coincidence that was not discovered until after the negative was developed.

© Robert Vizzini
Camera: Graflex Crown Graphic 4 x 5, Lens: Schneider-Kreuzbach 135mm f4.7 Xenar
Aperture: f/4.7, Exposure: 6 minutes, Film: Kodak T-Max 400