Barbara Yoshida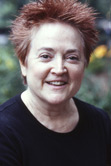 Photo Credit © Julia Smith
After receiving an MA in art from Hunter College, New York–based Barbara Yoshida spent twenty years as a painter and began photographing in 1989. A member of the International Dark-Sky Association, Yoshida appreciates the innate qualities of moonlight and travels far away from artificial light to work. She exhibits both nationally and internationally and has worked in residence at MacDowell Colony, Light Work, and Atlantic Center for the Arts. In 2006, she was selected for the international survey Photography Now: one hundred portfolios. Public collections include Museet for Fotokunst Brandts Klaedefabrik, Frederick R. Weisman Art Museum, Huntington Gardens Art Collection, and Polaroid Corporation.
Clements Mountain - Moonlight, Glacier National Park, Montana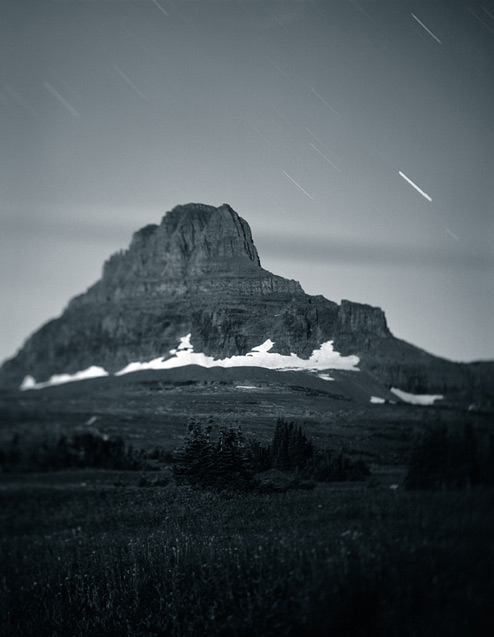 Shooting large format on location entails packing a lot of gear. In addition to her camera and lens, Yoshida carries film holders, multiple boxes of film, a changing bag, a loupe, a sturdy tripod and other supplies to stay safe in the elements. She packs up to six layers of clothing to keep warm in plunging temperatures and often pitches a tent and spends the night next to her subjects. Contrary to what most large format photographers would recommend, Yoshida always shoots with her lens wide open to allow the shortest possible exposure time. On a clear night during the full moon she estimates her exposures at 8 minutes. When clouds obscure the moon or when it is less than full she adds more time to the exposure, sometimes up to twice as long.

© Barbara Yoshida
Camera: Wista 4x5 Field Camera, Lens: Nikkor-W 150 mm, Aperture: f/5.6
Exposure: 8 minutes, Film: Kodak Tri-X