Chris Crisman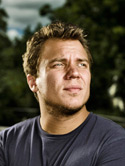 Chris Crisman grew up watching the fall of the steel industry in Titusville, Pennsylvania, an event that has had a significant influence on his life. A 2003 graduate of the University of Pennsylvania, Crisman works as a commercial photographer in Philadelphia. His clients include magazines such as Rolling Stone, Field & Stream, Fast Company, and many others. His extensive portrait project on the retired steelworkers of his hometown has garnered him many accolades, including publication in the Communication Arts 2006 Photo Annual and selection by the Magenta Foundation for the Arts as one of twenty emerging photographers in the United States.
Richard Crisman, from the Steelworkers series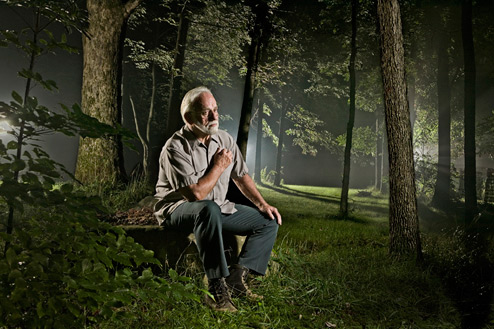 The radiant lighting in Crisman's finished portrait of his father in a lush wooded setting appears to be seamless. Yet the image is actually composed of more than fourteen iterations of the same nocturnal scene under changing light with successive frames integrated in Photoshop. Lighting in the background landscape is provided by a single source strobe strategically placed at incremental vantage points throughout the landscape.
© Chris Crisman
Camera: Canon 1-Ds, Lens: 24-70mm zoom, ISO: f/50, Aperture: 5.6,
Lighting: Two strobes with a Dynalite inverter power supply and a 1,000-watt pack
Exposures: bracketed from ¼ to 1/80 of a second